Styling Head & Accessories
---
Sort by:
Top sellers
New
Price ascending
Price descending
Filter
---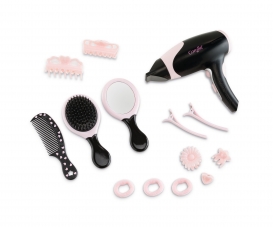 Styling Head & Accessories
Corolle Hair Styling Set
9000310020
€29.99
"The Corolle Hairstyling Set consists of 14 realistically styled accessories (1 hair dryer, 1 hairbrush, 1 handheld mirror, 1 comb, 2 large claw clips, 3 smal claw clips, 2 flat hair clips and 3 scrunchies) to create lots of different hairdos. The hair dryer operates with 2 batteries (LR03/AAA, included) and has these realistic features: The tip is removable It makes a sound when turned on It blows air (at ambient temperature) The Corolle Hairstyling Set is the ideal complement to the Flower Princess Hairstyling Head; together they are sure to inspire hours on end of creative hair play! Hair play is fun! Ages 3 and up."
More