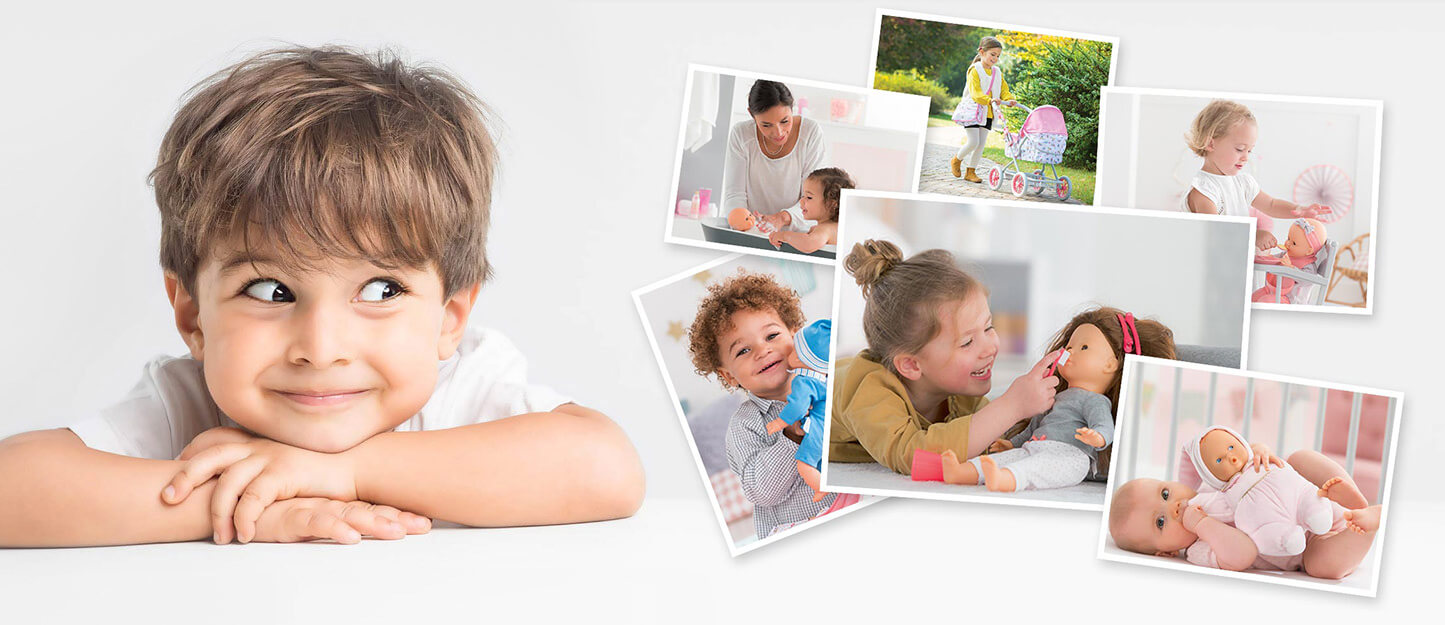 THE FRENCH DOLL MARKET REFERENCE SINCE 1979
Corolle, a French compagny located in the heart of the Loire Valley, is the market leader in the nurturing doll category. The Corolle soft-bodied dolls, baby dolls, dolls, oufits and accessories are sold in more than 20 countries around the world and on its website www.corolle.com.
Brand philosophy
French dolls with charm
Every year since its founding in 1979, "the good fairies & elves" in Corolle's design studio create first dolls, baby dolls, fashions and accessories for every age and stage in a young child's life, inviting children to dream, imitate and expand their imaginations.
Inviting endless hours of creative play filled with laughter and love, with dolls to dress and redress, nurture and care for andshower with cuddles... that's the magic of Corolle!
We take playing with dolls seriously!
Show more
Show less
History
The Corolle story
Corolle opens it doors in Langeais, in the heart of the Loire Valley, with the mission to create beautiful dolls perfectly adapted for children, dolls that will be passed from generation to generation
the first new born is delivered: Bébé Chéri. At 20'' tall, it's the size of a real baby!
Corolle creates Calin, the 12'' soft-bodied baby doll that can be posed like a real baby
Corolle sets up a doll clinic: hundreds of dolls are acred for here very year (available in Europe only)
the appearance of the first 12'' soft-bodied baby doll that can go in the tub, by the sea and at the swimming pool, is so light that it floats and dries afterwards
Corolle innovates and follows the ""fast-fashion"" movement with ma Corolle: personalization and continuous renewal of collections at the heart of a first-ever concept.
Corolle enters the Simba Dickie's family on April the 1st
Corolle celebrates its 40th anniversary
Show more
Show less
Production
Production & Quality
Corolle attaches great importance to quality at each stage of the product's creation. As a result, Corolle products meet or exceed all voluntary and mandatory safety standards in the countries which they are sold.
Design & Development
With unique vanilla scent
Corolle soft-bodied dolls, baby dolls and dolls, distinguished by their beautiful faces and delicate vanilla scent, are beautiful to look at and beautifully dressed. Their secret? In Langeais, in the heart of the Loire Valley, Corolle's design team imagines, sketches and selects styles, fabrics and materials to bring their creations to life.